An exhibition of contemporary photographs curated by Melissa Rombout,

Alchemy of Nature features recent works created using 19th century photographic processes that explore the natural environment created by artists Bob Carnie, Diana Bloomfield and Christine Fitzgerald.

OPENING RECEPTION: SATURDAY, SEPTEMBER 10, 2022
from 2-6pm.
ARTISTS IN ATTENDANCE
SIGN UP HERE
Photography is now largely a digital pursuit using devices such as smartphones to take and distribute images. These three artists value the historical continuity of photography by using antiquated methods to create unique hand-printed physical objects. By bringing back to life historical techniques from photography's past and exploiting modern technology, their work links the past to the present and pushes the boundaries of their medium.
ARTISTS IN EXHIBITION:
Diana Bloomfield,a native North Carolinian, lives and works in Raleigh, North Carolina. An exhibiting artist for over 35 years, Bloomfield specializes in 19th century photographic printing techniques. Her images and one-of-a-kind handmade artist books have been widely exhibited and published. Her work is in many public and private collections, including in the Norton Museum of Art, located in West Palm Beach, Florida; The Fine Art Program and Collection at Montefiore Einstein, in Bronx, New York; the New Mexico History Museum/Palace of the Governors, located in Santa Fe, New Mexico; and North Carolina State University's Gregg Museum of Art & Design, located in Raleigh. In August of 2021, Diana was honored with Rofofolio's 2021 Denis Roussel Award, juried by Christopher James. She was also recently named to the YourDailyPhotograph.com's Hot 100 of 2021, one of 100 artists chosen by both collectors and curators from the 4,500 photographic artists who have contributed to the Daily.
She is represented by the Ryan Gallery of Art Intersection, located in Gilbert, Arizona, and by photo-eye Gallery (Photographer's Showcase) located in Santa Fe, New Mexico. Diana received her MA in English Literature and Creative Writing from North Carolina State University. She teaches workshops on antique printing processes throughout the country, and in her beautiful backyard studio.
Diana Bloomfield views landscapes much like people - dynamic, ever-changing, perfectly imperfect, and often impermanent. That dynamic and elusive quality of the natural world is what keeps her intrigued. Most of these images were made beginning in 2020, at the start of a global pandemic, and nearly all were made throughout North Carolina. As a native North Carolina, this familiar Southern landscape offers both a visual narrative and a sense of place. Her images are printed in the 19th century photographic printing process of gum bichromate and cyanotype.
"Magnolia" Tricolour Bichromate. Image © Diana Bloomfield
Bob Carnie is a Toronto-based photographer and printer. Since graduating from the Fanshawe College's photography program in 1976, Bob has not only continued his own photography practice, but also garnered an international reputation for printing traditional and digital fine art. A master printer, he's worked with many acclaimed photographers, printing for personal portfolios, private collections, gallery exhibitions and museum installations. Bob's passion for photography is fueled by this hands-on work in the darkroom, where he's most in his element – a passion that's evident in his own work. Using a combination of skills in historical and vintage processes, at times enhanced by contemporary technology, Bob's combinations of skills, artistry and (hard-boiled) perceptiveness bring a unique richness to his work – from the early landscapes seen here, through to his current body of work which contemplates the value, beauty, and ephemerality of everyday objects.
Bob Carnie's photographs in this exhibition depict a visual journey to two regions of Ontario in which his own past is deeply rooted – the Muskokas and Madawaska. The images explore the connection between human emotion and place - evoking memories, nostalgia and loss, and the restorative power of nature. Bob's printing method for these landscape images, using gum bichromate and palladium historical processes, creates a unique layered aesthetic: tinged with a sense of melancholy and hope, reflecting to us our own identities, linking the layers of our past with who we are today.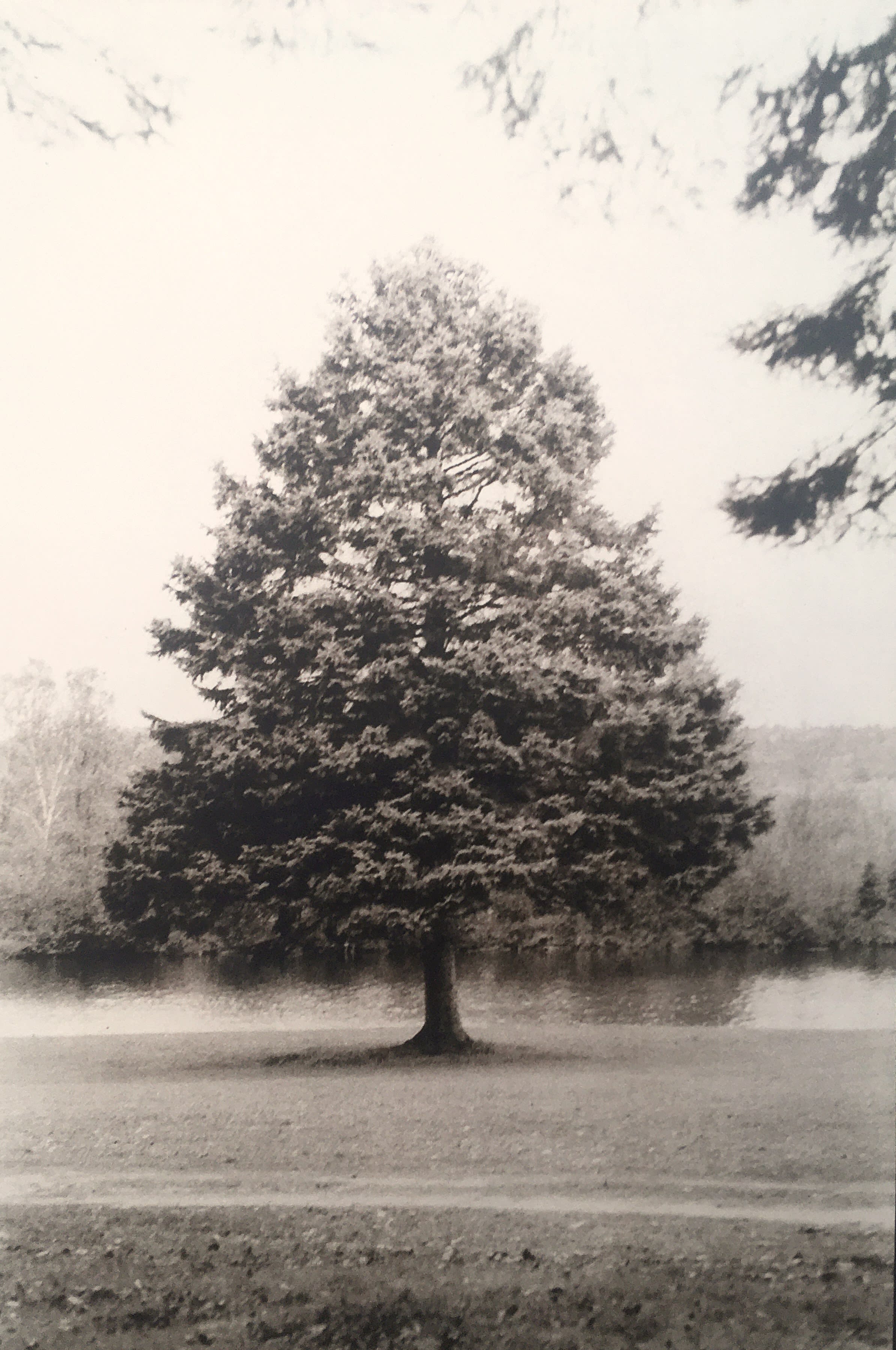 Image © Bob Carnie
Christine Fitzgerald is a photo-based artist from Ottawa, Canada. A graduate of the School of the Photographic Arts: Ottawa, and Acadia and Dalhousie Universities, Christine completed an artist residency at the Ottawa School of Art, was an invited artist in residence in print media at York University and was chosen as a visual artist for the historic Canada C3 Expedition on Canada's 150th anniversary. Christine has been the recipient of grants from the Ontario Arts Council and the Canada Council for the Arts, and numerous awards including the 2016 International Fine Art Photographer of the Year from the Lucie Foundation in New York City. Her work has been featured by the CBC, The Washington Post, and the National Geographic. In 2020, some of her photographs were at the Canadian Embassy in Washington, D.C. as part of the featured group exhibition, New Light: Canadian Women Artists.
Christine Fitzgerald explores our tenuous relationship with nature. Her photographs present vulnerable places and species along the majestic Saint Lawrence River from Lake Ontario to the Atlantic Ocean. Her images are cloaked in deep blue, referencing the diminishing capacity for completely dark night sky in the face of the advancing effects of the Anthropocene age. She uses it as a tool to express how we are ultimately all connected with the health of the planet. Her photographs created using several historical photographic methods from the 19th century, are intended to instill a share sense of awareness in the precariousness of the natural environment. (Christine's pieces in the exhibition were supported by grants from the Ontario Arts Council and Canada Council for the Arts.)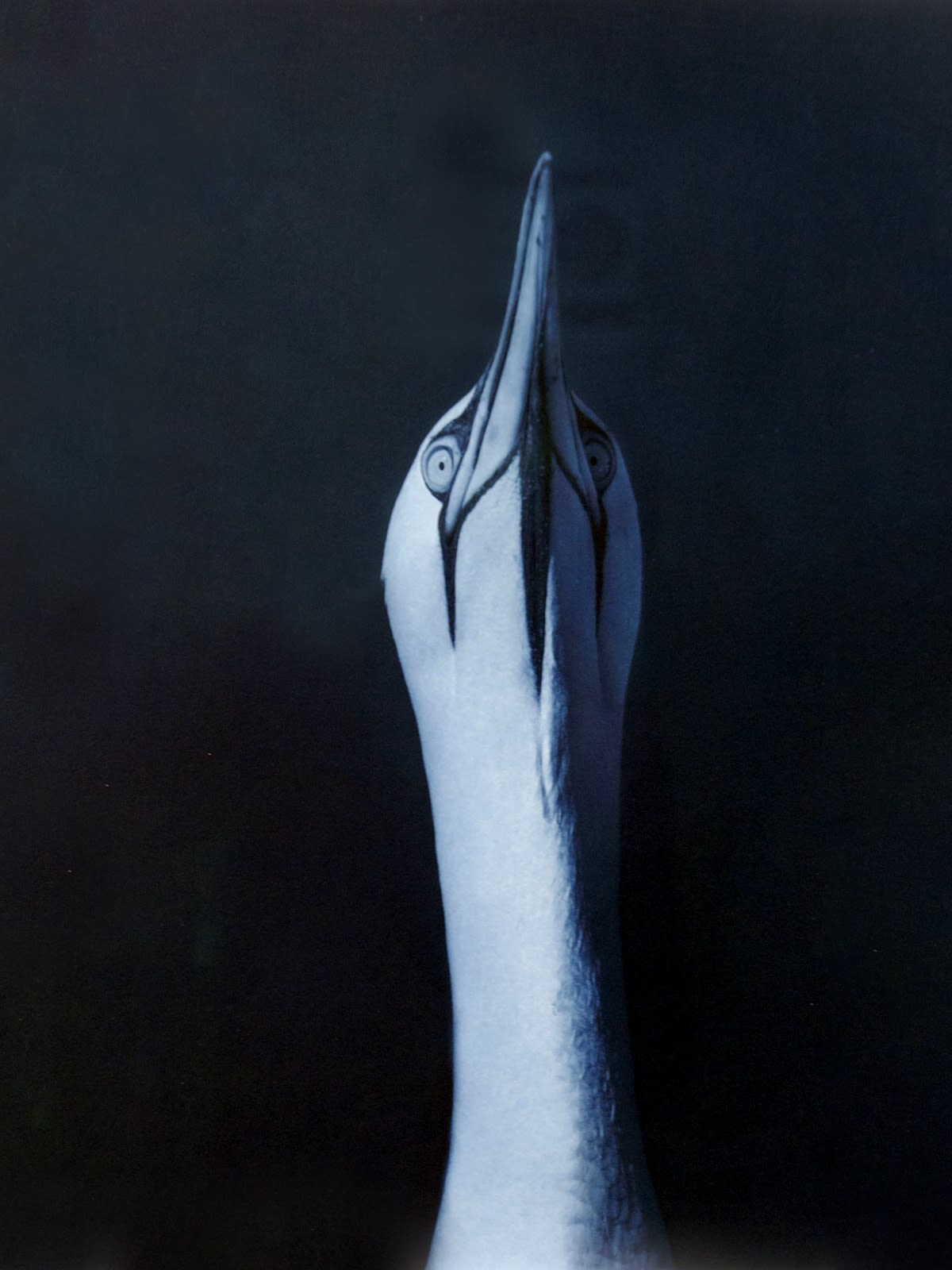 "Morus Bassanus No. 1, 2021" Image © Christine Fitzgerald