"Any fragment of beauty can become a moment that brings us back to one simple and sensible thing-to life in peace and harmony.

We are all waiting for the victory of my country."

-Olga Volianska

WATCH THE ONLINE ART LECTURE BY DIMITRI BOGACHUK DISCUSSING THE RELATION OF THE HISTORY OF ART AND CONTEMPORARY PHOTOGRAPHY AND VOLIANSKA'S WORK HERE.
Award winning Ukrainian born and based photographer Olga Volianska has two art educations; fashion design and design of the architectural environment.
In 2017 she discovered a new passion - photography. In the beginning it was photography from travels. She participated in numerous workshops and photo trips around the world, from Nepal to Paris along side outstanding masters of photography, including a portfolio review with Gueorgui Pinkhassov.
In 2020, during the Pandemic, photography took on a new meaning for Olga and became another tool for her artistic expression. After graduating from the Kyiv School of Photography, having passed all the programs of Dimitri Bogachuk, Olga became seriously interested in fine art photography, the results of which are presented in this exhibition.
As the Pandemic continued and along with Russian aggression, a new reality forced Olga to start to shoot at home and work with personal archives.
The Cardinal Gallery is thrilled to bring those archives to light in Volianska's North American premiere exhibition.
Olga currently lives in Odessa, Ukraine.
Volianska's work is a shining beacon of hope, resilience and beauty in a time of war and uncertainty.
We are wishing her peace and harmony #StandwithUkraine.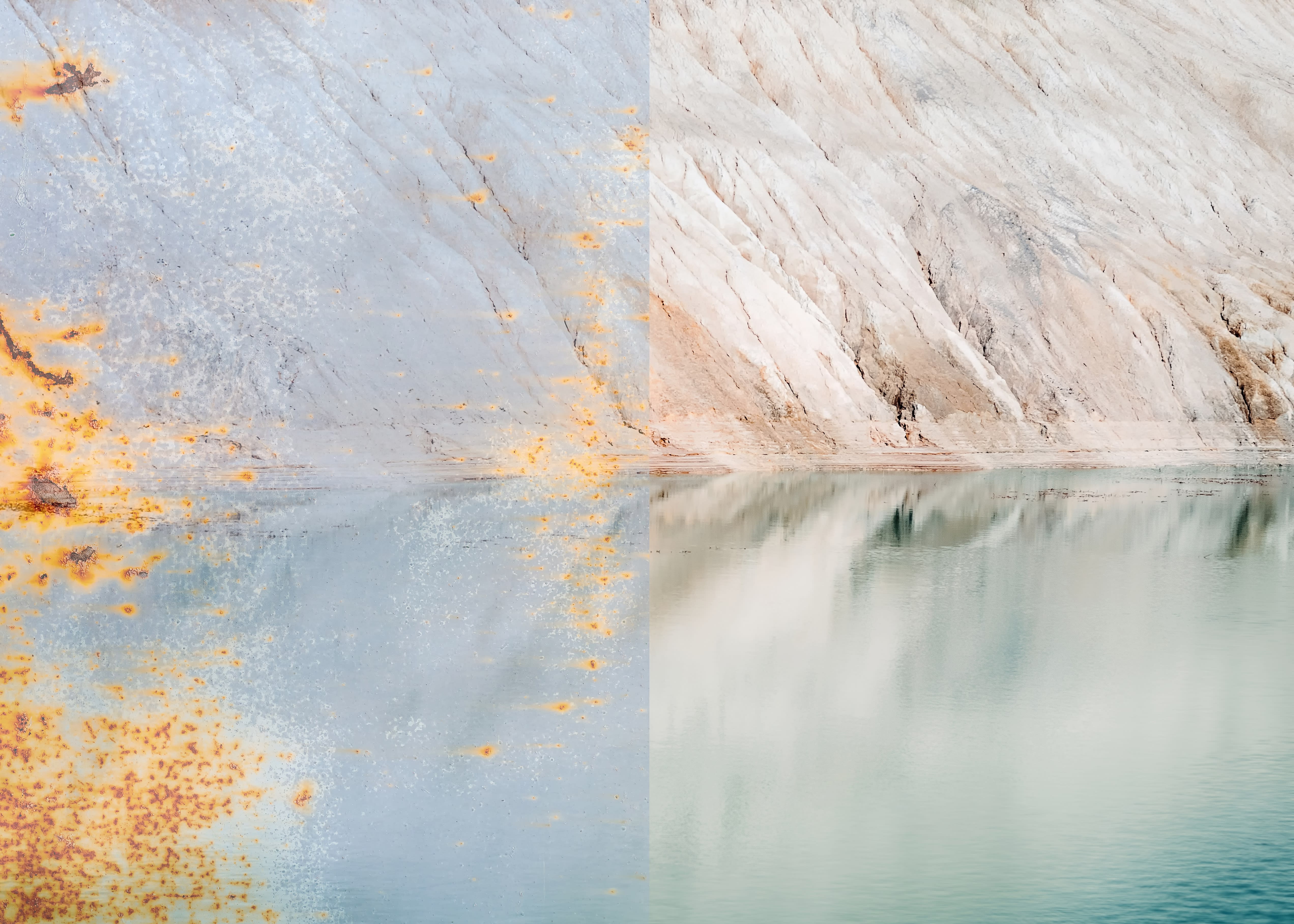 Erosion #3 Photo © Olga Volianska
EROSION SERIES
"You can see on the pictures my observations of the complex relationship between man and nature in a precious ecosystem.
It's the industrial landscape of the Zhytomyr region in Ukraine and the erosion of rusting surfaces on the sea coast of my native city taken in the off-season.
This series is an investigation of the eternal confrontation between man and nature. Man destroys nature by extracting minerals, and nature corrodes man-made structures.
The result makes me think that especially now any fragment of beauty can become a moment that brings us back to one simple and sensible things - to life in peace and harmony."
Observation:The Surace #3 Photo © Olga Volianska
OBSERVATION:THE SURFACE SERIES
"Texture documentary photos depict fictional landscapes and abstract paintings. This series consists of photographs taken on the Black Sea. I observed the synthesis of the influence of the sea
climate and human activity; how these two factors transform surfaces into abstract forms of art. Сlean surfaces have been changed with a range of natural influences. Temperature, wind, water, and sunlight have turned the ordinary into the extraordinary.
Every spring it's cleaned and painted. Over time, these landscapes will disappear, and new ones will appear in winter.'
Frozen Gardens #1 © Olga Volianska
FROZEN GARDEN SERIES
"This touching story has begun during quarantine, which deprived us of a single movement. My husband started to give me flowers bought from old ladies-pensioners. These are not grown flowers for sale, but simple, wild, collected by them in the garden and, unfortunately, subjected to rapid withering. In such a way, to extend their life, the idea of freezing the wilting process was born. And it turned out to be completely unpredictable and very exciting art.
Inspired by the work of the great artists of our time, I sought out the harmony of composition in this frozen chaos.
And of course I paid great attention to the transmission of modern color. And this is what has come of it. Hope you enjoy that."
Water's Flowers #9 Photo © Olga Volianska
WATER'S FLOWERS SERIES
"Here is an art photo series of images representing an alternative universe. The living pictures unfold in water with the fusion of unique bouquets of flora and splashes of colors.
I accidentally discovered Cy Twombly as a photographer for myself after seeing his photographs of flowers. But also, I have been knowing and appreciating him as an artist for a long time. The idea to shoot a series of flowers and flowing paint with an implicit reference was born with lightning speed. Guided by the knowledge of color, I have created this series through numerous experiments. All of these carefully planned flower arrangements have been shot underwater using paints."