Zeljka
We wear clothing to both cover and reveal aspects of ourselves at the same time; selecting what we want others to see — the fabricated self. Clothing can hide, expose, redefine and re-contextualize. The artist chose this subject matter as a representation of the layers of meaning of our self-expression. In Zeljka Alosinac's work, the garment appears within the folds of fabric on a faceless form and the end result is the viewer's inability to access the individual or fully interpret meaning. The absence of the figure in the work disallows association with identity.
Zeljka's career spans over 30 years in film set decoration, resulting in a love of fabric, material form, and light and shade on surface. Her chosen medium is large scale drawing on paper with this most recent series introducing the addition of pastel—a purity of pigment empowering the scale of the pieces and resulting in intensity and depth. Her creative process involves sourcing materials and inspiration for each garment. With influences as broad as 18thcentury women's undergarments, or a window grating seen in Madiera, Zeljka begins by constructing form in 3-dimension, choosing materials; draping, pinning, sewing onto the form—often allowing the material to direct the process. The viewer looks for meaning in the constructed; the 2D rendering. And for the artist, meaning exists in the construction and the deconstruction; in the process of making.
The drawings are all on BFK Rives paper 30 x 42, framed 36 1/2 x 49, media is charcoal and pastel.

​Bob
​
Bob Carnie is a Toronto based photographer and master printmaker. He owns Alternative Photo Services which has a complete printing facility and The Dylan Ellis photographic gallery onsite.
It has now been over 40 years that Bob has printed for photographers, galleries, museums and private collections. Over those years Bob has pursued a long term project of collecting and shooting various items, objects that we use, consume and in some cases throw away. Bob has captured a unique and quirky history of our times using large format film cameras.
In this series the pageant dresses were custom made for young ladies to compete in and most likely only worn once and never worn again.
After taking the initial photograph each image was processed in chemicals and reversed or solarized using light exposure during development.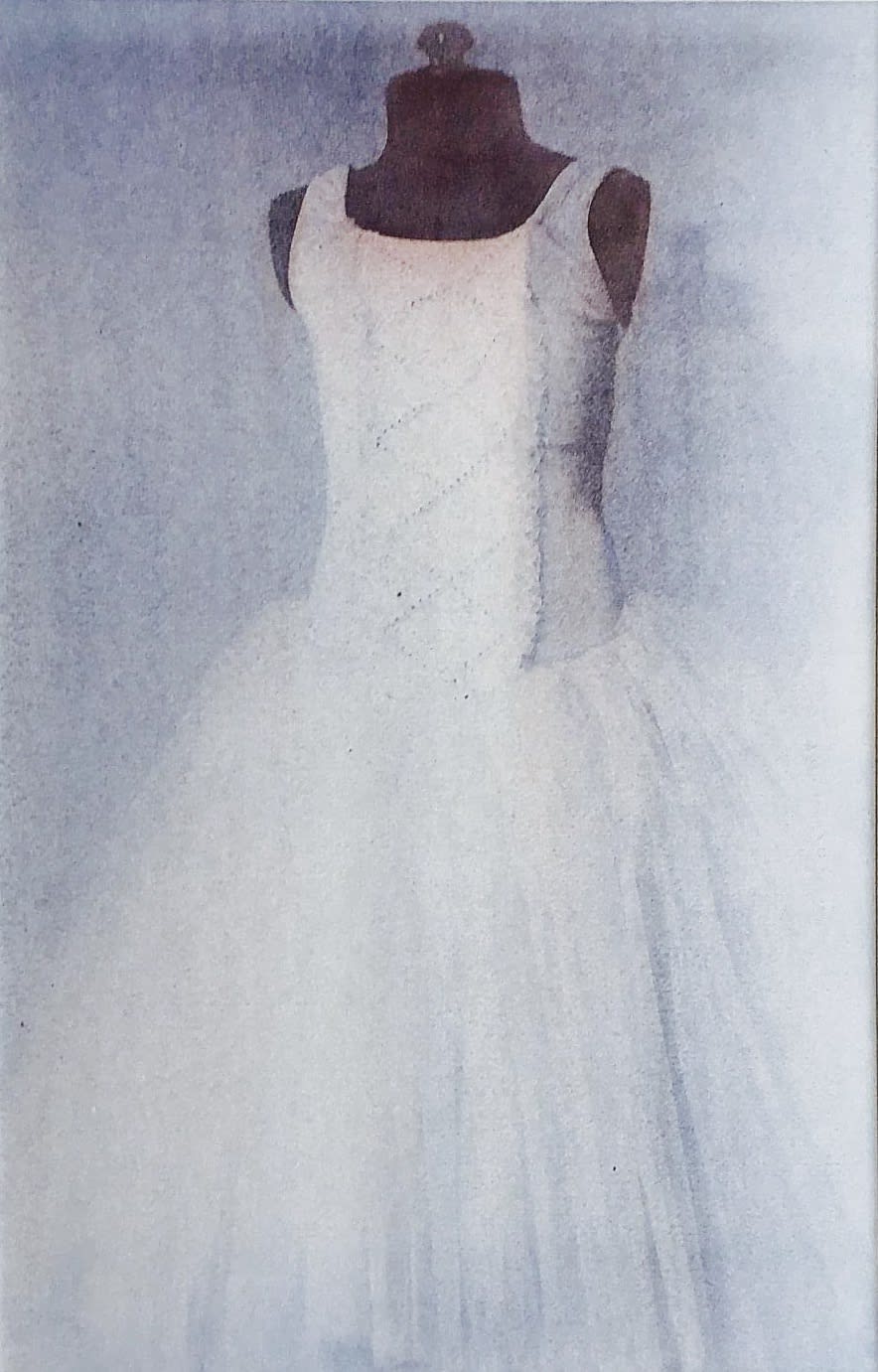 Image © Bob Carnie
Each image is selected , scanned and then made into four series of separation films that are registered and in the printing process Bob hand coats a mixture of watercolour pigments in a solution of gum arabic onto watercolour paper and using the historic Gum Bichromate printing process layers down colour and tone to create these uniquely different images that are one of the only permanent photographic processes know today.
Multi-colour Gum Bichromate prints. Each image is approximately 13 x 18
​